New HPS Watch List is out for Next week
posted by daytraderockstar
May 18, 2018 5:56 pm
Next week should be a great week for the markets. Not to make a call on direction but on the compression of the trading range this week. Today the Tradeometer on the E-mini futures nailed ever entry zone. This was perfect conditions for the TOM . This is an invaluable tool for future traders.
On to the watch list.. Stock on this weeks watch list include. (Members Only) As for Best Bet I like the (Members Only) reversal candle and will look to get into that early next week. I have also been getting into some more aggressive scalp that are basically momentum daytrader plays. Low float fast big moves. This weeks trade were BLNK for DayTraderRockstar: + SLD 300 BLNK @ 3.385 USD from our entry at 2.48.
and the other was Higher Risk Spec BOUGHT 300 OPHC @ 5.155 USD ISLAND Sold @ 7.00
Look for more of these next week for sure as the environment is ripe for these trades.
Like I said next week looks to be great. I will see you in the markets
DayTraderRockStar
Become of a member of www.daytradingradio.com and receive all the trades and the research real time and join the biggest community of traders working together to profit each day. This is what we do, this is our job.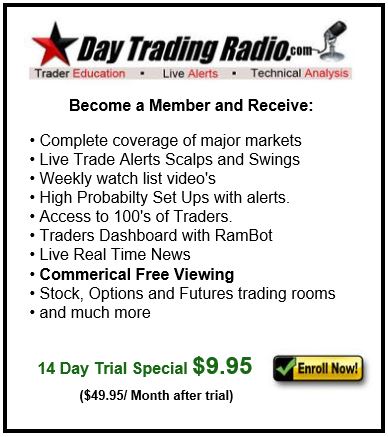 For those traders that do not have time to take advantage of all the benefits You have a choice to receive a scaled down version of just the research and HPS watch List sent out each Friday for the following week. check it out below. (Live Trade Alerts and other benefits are not included, just the watch list and HPS watch list alerts