The HPS Foundation Course and Ultimate Divergence Course are available
posted by daytraderockstar
Jul 21, 2017 10:31 pm
First things first... This week's HPS Members watch list is out. You can view it here http://daytradingradio.com//10for1000.
This past week was another text book example of divergence trading and using the HPS method to pin point trading opportunities. I ran a report on the last few months trades taken using the HPS site and as you can see the results are consistent.
Now remember in my approach to the market and teaching a method like this it is important to be pretty standardized, meaning that I have a set of rules that I use for both my entry and exit criteria and position sizing.
My position size for teaching is to show you what you can expect as a small lot trader ( meaning trading 100 shares rather than 500-1000 shares) A general rule of thumb for me is I take 50 shares for stocks over $100.00 and 100-200 shares for stocks trading under $100 usually in the 30-70 range. Now, this is also based on the HPS position sizing method I use with the HPS (described in course). This gives the smaller trader a realistic idea on what they can see as returns for a standard HPS setup /divergence trade. If your a larger trader you just have to multiply the shares and so will the profits. In some cases, there will be trades held for longer periods but for the most part, I would like to see my ideal trade last 3-5 days that will let me capture most of the momentum that comes from these perfect signals.
All these techniques that we use and have discussed over the years have now been compiled and organized into a Basic Foundation Course and a more advance Divergence course. These courses were released today for sale and they can be viewed on www.theschoolofstock.com
This is the blueprint and your business plan. Trading needs to be treated as a business. and a business needs a plan. High Probability Setups defines your entry and exit criteria. The info contained here is the only information that has proven itself over 20+ years. It is void of any wasted trade strategy. but instead, supplies you with a very clear and specific framework for each trade. A methodology that consists only of the most reliable and accurate patterns along with a logical risk management procedure.

In writing these courses I effectively cut the learning curve by years. The information is organized into a focused course that is broken down into individual lessons.

Each lesson is a foundation building block of being a successful trader. You will find this material a tremendous benefit if you are a new trader and/or a new listener to the show.When I am live on Daytradingradio.com, you will hear and see the terms and techniques that I focus on in my course. There are also advanced modules and other educational material. New lessons are always added.
Even though these are offered to the general public for sale I would like to extend our top supporters a discount on anything new that gets released.
So DayTradingRadio Yearly subscribers get a 25% Coupon for the courses
and Lifetime Members get a 50% discount
Contact myself or RPM and we will give you the coupon code to use before purchasing.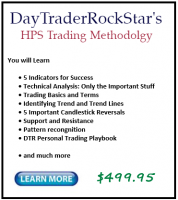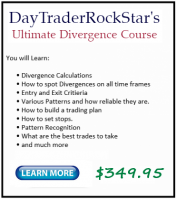 I am also offering a Trader Development Package that bundles
3 years of Daytradingradio
3 Years of Tradeometer
The HPS methodology Course
The Ultimate Divergence Course
and (3) 90 Mentoring Sessions http://theschoolofstock.com/mentoring/
Separately this would be $4025.10 but I feel this combination is the complete experience I want to offer it as a course launch special for 1 month at $2499.95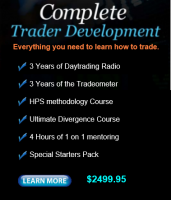 Have a great weekend and if you have any questions or issues please contact me
dtrs@daytradingradio.com