Trader's Spotlight LIVE - Tonight 7PM EST - Member's ONLY - sawboy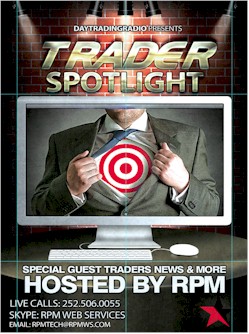 posted by RPM
May 11, 2017 2:55 pm
Trader's Spotlight LIVE - Tonight 7PM EST - Member's ONlLY sawboy!
Join us tonight for a Trader's Spotlight Live with DTR member "sawboy"
Tonight we learn about sawboy and the interesting ways he uses DTR's "TradeOMeter" to trade stocks during the day. This should be interesting to hear from him LIVE on DTR.
This show will be for member's only.
@rpm