Year in review from Day Trading Radio
posted by daytraderockstar
Dec 30, 2016 9:10 pm
Happy New year from DTR
First want to thank all the listeners of DayTradingRadio for there continued support. We had a great year here at DTR and looking forward to next week to start an exciting 2017. The Members of DTR deserve a special thanks for there continued support of the show and the site. We will be heading into our 11th year and look forward to bringing you even more coverage, research and tools. If you would like to see what you get as a member please check out this link and join the family. Benefits of Being a Member We have a end of year special going on for just 3 more days.
.
Here is next weeks HPS watch List. Another short week and expected lighter volume but we are starting to see a reason to look for the next move higher. All this and more on this weeks Video
http://daytradingradio.com//10for1000 DayTraderRockStar
So lets do a fast recap excerpts from Briefing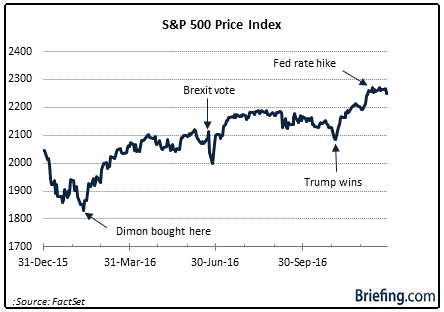 The S&P 500 declined 5.1% in January; meanwhile, the Dow Jones Industrial Average declined 5.5%, marking the worst start to a year for the Dow ever

China's stock market dropped 7.0% alone on its first day of trading in 2016.

The meltdown didn't end when January came to an end either. The first half of February brought additional selling pressure that left the S&P 500 down 11.4% for the year at its close on February 11 -- and then the selling ended.

While the S&P 500 declined 0.4% for the month of February overall, it surged 5.6% from its close on February 11 to the end of the month.

Then up from there!
March was a huge month, producing a 6.6% gain for the S&P 500, which was followed up by a 2.7% gain in April, and a 1.5% increase in May.
June 23rd Brexit Vote
That vote proved to be a stunner as the majority of UK voters voted in favor of the UK leaving the European Union. That decision flew in the face of conventional polling wisdom and it triggered a knee-jerk sell-off that knocked the S&P 500 down 113 points, or 5.3%, in the two sessions following the result -- and then the selling ended.
Briefly, the stock market meandered its way through the months of August, September, and October with a somewhat negative orientation that was rooted in falling oil prices, a weak health care sector, and rising bond rates.
The biotech stocks in particular were hit hard as talk on the campaign trail of drug price controls clipped their wings.
Donald Trump stunned conventional polling wisdom and won the electoral vote. In turn, the GOP won enough seats to have majority control in both the House and Senate.
There were huge declines in the futures market on Election Night when results pointed to a Trump victory, yet there was even a bigger reversal in the cash market when trading began the next day.
The post-election rally was powered by the financial sector, which took off on a pro-growth trade that featured a steepening yield curve, and cyclical sectors that would be in a prime position to benefit from faster growth and rising inflation.
The final tally for the year is impressive


Next we start a new year... personally I feel this is the perfect time to be in the markets. there will always be some hiccups but we could have the makings of a multi-year rally starting from 2016..remember 2015 was our pause. I look forward to trading and discussing it with all of you.
Have a Happy and Healthy New Year
DayTraderRockStar
Johnny