This Week's HPS Video and Watch list have been uploaded

posted by daytraderockstar
Jul 26, 2013 11:11 pm
Well what a great week, I might sound a little excited on this week's video, It's just that there is so much happening with the site and trading has been spot on. I am excited about the next week as it will be both the end of the month and the first Friday that will bring with it another jobs report. I am no longer concerned with the Jobs report even though it is considered by many as one of the Fed major focal points when determining how and when a tapering of the bond buying will occur.
Below you will see a nice target I have on the next move up in the S&P 500. It only seems right to continue to respect the recent trend lines and a break of the 1700 zone will satisfy the criteria of a new high being taken out to set us up for a pull back into the channel.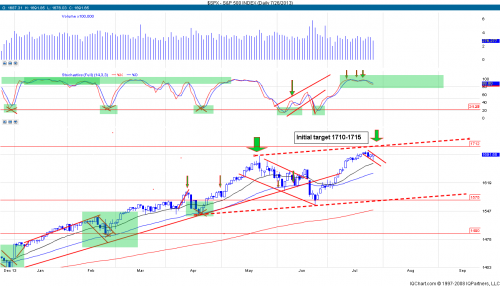 It's not a standard channel design but it is something to work with as I do expect a move higher sooner then later. As for stocks The HPS 25 was officially introduced today, and a review of the new trader dashboard along with the first beta version of the alert system which will have HPS alerts, trade alerts, News and HPS trend line and stochastic alerts.
As a special surprise bonus I have been working on an automated trading system that trades the SPY using some of the key indicators found in the HPS methodology. This can be followed on twitter @AutoSpyTrader
https://twitter.com/AutoSpyTrader
Just understand as mentioned in the video I am trying to configure it properly in regards to posting trades. As of right now the trades are announced but they are not tagged properly with buy or sell. We are working on fixing the issue. This will also be added to the alert system for members to follow. I think you will be surprised at the results. ( This is just in a beta mode and should not be traded on.)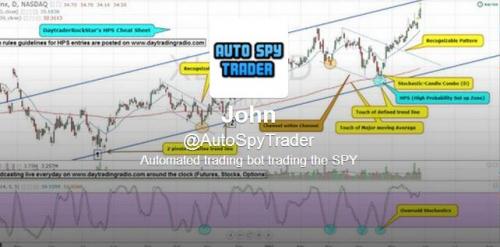 As for Setups for Next week I go over "6" contenders for Best Bet. That's right 6! I always throw one out for the lurkers but each one is just as good as the next this week and I will be looking to start a new position in $CBS early Monday, but that could change to one or more of the other 5 Monday morning. I will post a more select group Monday Morning in the alert Box.
I think this week watch list can't get be packed with any more great setups I will let you get to it and Hope everyone has a great weekend
Here is the Video http://daytradingradio.com/10for1000
DayTraderRockStar