HPS Watch list has been Released

posted by daytraderockstar
Jun 22, 2013 12:26 am
Before wrapping it up tonight, I took a couple more glances at the action from the last three days. Even though the selling was one sided, the blame was definitely on the shoulders of Bernanke and his comments after the FOMC decision. Going into the meeting, you could feel more than anytime in the recent past, that the markets were overly concerned about tapering of the QE program. This caused bonds to sell off and stocks along with gold. The way I see it, the news was too much in focus this time and they got a lot of talk about the process that could lead to eventual easing of the Bond buying program. But no one really cared that this is at least a year in the future and if everything plays out as the Fed is projecting.
As next week rolls around and if there is no new shockers out of China or Europe, I suspect the charts get back in rhythm. If you look at the following chart, you will see that the chart really didn't fall out of rhythm. But another 1-2-3 pattern had formed since we put in the recent top (4) around 1554 that combined with 1 and 3. So that channel is 1-3-4-5.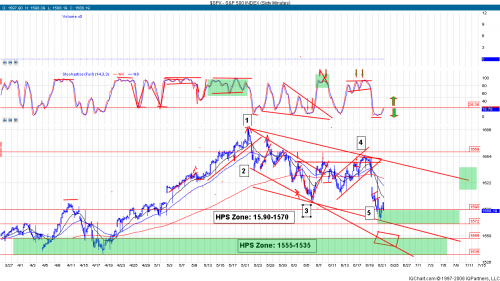 I want to pay close attention to the lower HPS zone because the 60 Min stochastic is set up and we have a pure channel. Next week could start back into the channel. Again, I want to see what news we wake up to on Monday.
Couple things for next week:
60 Minute. 60 Minute. 60 Minute. As you will see in the video, use this market on this time frame and stick with a core group of stocks that perform.
We still have a lot of volatility going into next week. Wait for the first 30 minutes of the trading day to get a better feel.
I will be testing the 1 min dual stochastic indicator next week on the emini.
Don't forget the AlgoX Indicator. It comes off its 24.99 introductory price starting Monday and goes up to 29.99 so lock it it or least check out he 1 week free trial.
http://algox.daytradingradio.com/
Thanks Paul and Happy Anniversary again. I had some personal crap going on all hitting at once and definitely was not in a good space. Thanks Paul for understanding and dealing.
I look forward to a week off in a couple weeks. This past week I probably should not have been trading. It's hard to step away when you have a show like this. I bring it up as both a cleansing for myself and a reminder that it's so important to be in the right frame of mind when you sit down at the at computer each day. It is not that hard to take a day off (well maybe it is hard), but I know the markets are not going away.
Have a great weekend everyone.
DTRS