A another good week in the books..Whats next? HPS Watch List Video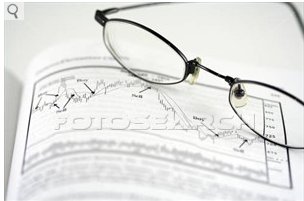 posted by daytraderockstar
Nov 30, 2012 10:03 pm
November had a lot of events that effected the market, We had the post Presidential Election sell off then, The mid month Traders expo took me out of the markets for a few days. I felt more comfortable taking some position off the table. I took these position off the table at a loss and have to live with it. I went back today and looked back at those trades and 3 out of 4 came back and in the case of DECK ran a further 8 points. I make this point cause it was important for me to see the trades worked and that it was market timing and for me to feel less vulnerable while i was away that made me cut my losses. So overall good month 37 profitable trades and 14 losses. of those 14 (4 stocks taken off before vegas) and ( 4 shorts that did not work) So we begin December and the big question is... Will Santa go off the cliff? Hey you heard it here first. The Santa going off the cliff reference.. You know CNBS will use this next week.
Next week is weird as I describe in the video. The market will be hanging on every news conference that is called to discuss the Fiscal Crisis. The opportunities will be there but they will need to show up a little clearer before I feel comfortable getting to involved. This is one of those weeks we can rally hard or fall hard. I have a slight bias to the upside, but know there are great times to trade and great times to wait in ambush for the perfect opportunity.
Watch List Video http://daytradingradio.com/10for1000
Also got one of great members Coder has some great info to share so look for him to be a guest early in the week Monday is a good bet
Via Coder:
" I did a little study on an earnings report trading strategy and summarized it in my members blog (http://zone.daytradingradio.com/entry.php?114-Earnings-Report-IV-Straddle-Play). Reignmaker asked me to share it on his Wed. night show, which I plan to do. It will probably take about 20 minutes before Q&A. I'll go over a spreadsheet where I collected data and did some calculations. The results are informative and the concept of doing one's own research might be insightful for newer traders.I thought it may have broader interest to your daytime audience. So I thought I'd ask if you would like me to skype in during a slow lunchtime period"


Below is the chart of the $SPX (s&p)
You can see we are at a cross roads..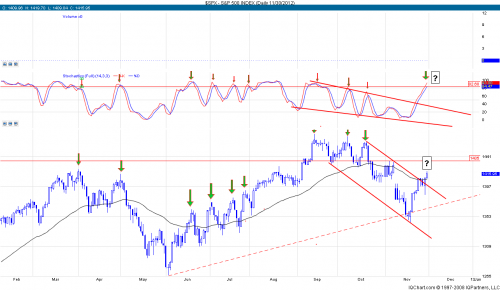 Everything up to this point is pretty text book Coiled stochastic lower trend line HPS set up. At that point we had a daily- 60 min buy signal. Now we have the daily 60 sell signal but things seem a bit stronger.
Don't forget Market Watch with Athens Sunday Night 5:00pm et Live Futures open and market discussion


DTRS